Toshiba 3 Phase UPS Systems
---
Contents:
---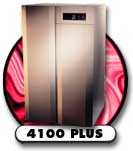 Toshiba's 4100 Series 3-Phase UPS provides the ultimate in premium power protection. All of Toshiba's 3-phase units come with several Exclusive Features that really set us apart from the competition.
---
Toshiba's 3-Phase UPS provides exceptional-grade power while reflecting a low 3% current total harmonic distortion back to the input source. Diagnosis and control of both power and UPS are done easily with the standard 4-line LCD and keypad. Available in a wide range of voltage configurations, this series is the true meaning of secuty.
Download the 4100 Brochure here.
---
Toshiba offers matching extended runtime battery cabinets for those applications needing more battery time. Plug and Play connections provide simple-user installation. Toshiba's extended runtime battery cabinets are industrial-grade quality yet aesthetically pleasing in appearance.
---

The RemotEyeII simultaneously acts as an SNMP adapter and an HTTP adapter. This allows you to easily incorporate a Toshiba UPS into an SNMP Network Management System, or just use a common Web browser for remote UPS management! For more information, click on "RemotEyeII" above.
---
Toshiba's PowerView Plus is a smart power management and shutdown software designed to protect critical data from damaging power occurrences. Coupled with a Toshiba UPS, it monitors the power coming out of the UPS via the serial port. If a power failure occurs, messages of power problems are sent to users via pager or network broadcasts. In the event of a prolonged power outage, PowerView Plus will safely shutdown the operating system.
---