Watlow Temperature and Power Controls
Watlow has released four revolutionary integrated controller products: the EZ-ZONE® PM panel mount controller, the EZ-ZONE ST integrated control loop, the EZ-ZONE RM multi-loop integrated controller and the EHG SL10 process controller and safety limit. All of these modular products combine multiple functions into one integrated control system leading to:
Fewer components
Fewer aggravations

These products give you the ability to utilize just one component. These products' advanced designs give you the ability to add or subtract modulars as your requirements change.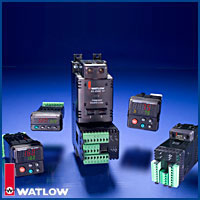 Watlow's EZ-ZONE® controllers decrease design and assembly time, require less panel space, minimize system complexity and best of all, lower the total cost of ownership. Because these products are modular and scalable, you only pay for what you need. You can order the EZ-ZONEs in multiple configurations giving you the flexibility to standardize on the product platform to solve your wide range of application needs.
EZ-ZONE features include RoHS compliance by design, TRU-TUNE®+ adaptive control and a variety of industrial communication protocols including EIA 485, EIA 232, EtherNet/IP!" and Modbus® TCP.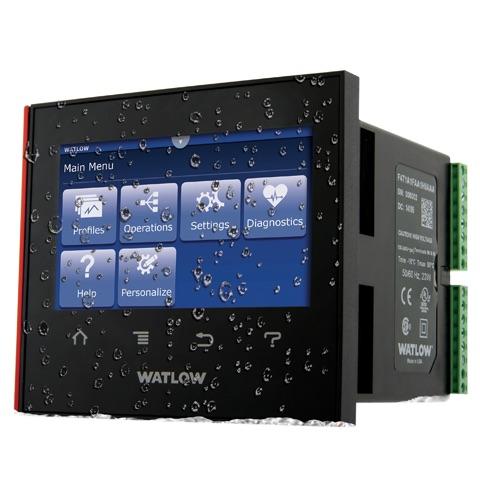 The F4T with INTUITION temperature & process controller from Watlow offers a wide range of field removable I/O modules for maximum design flexibility. Configurations can be custom tailored to meet the scaling needs of a tremendous range of equipment and applications while providing exactly the hardware types required for compatibility. The F4T controller also features a 4.3 inch, color, graphical touch panel. Combining power, flexibility and functionality, this new controller offers unmatched versatility, and its best-in-class ease of use could very well make user manuals a thing of the past.
The F4T's batch processing feature can help with regulatory compliance, achieving data integrity in the plant, reducing warranty exposure, and even avoiding a potential recall scenario without significantly raising production costs.
1 to 64 PID loop capabilities offers a common controller platform across many design applications since both loop count and additional outputs can be ordered in increments of one. Reduces wiring time and termination complexity compared to connecting multiple discrete products.

Offers solutions to reduce system complexity and lower the cost of control loop ownership.
An integrated control loop solution combining the PID functionality, over/under limit functionality and high amperage NO-ARC power switching output in a single panel mount package.

Offers complete thermal system control in a single package solution.
Offers a PID temperature controller already connected to a high amperage solid state relay with the option of adding a properly sized heat sink, an over/under temperature limit, a shut-down power contactor, digital communications and a remote user interface in one complete and professionally engineered product.

Process and safety limit in one controller package.
Accurate and flexible temperature process controller.
Watlow solid state power controllers complement the rapid switching required by PID temperature controls and help deliver optimum system performance and service life. Available in 1-phase and 3-phase/2-leg and 3-leg configuration, Watlow power controllers meet most industrial heating applications. Random, zero cross or phase angle fire options allow for a variety of applications.
Provides a convenient DIN rail mount package in current ratings from 18 to 100 amperes.
A good replacement for equal mercury displacement relays.
The DIN-A-MITE family is the ideal solid state replacement for mercury displacement relays (MDRs) in an easy-to-install, compact, touch-safe package. The solid state power controllers provides SCR control, heatsink, wiring and touch-safe exterior in one package. By designing the DIN-A-MITE as a total power controller unit, the need to prep wires for terminals, locate the right heatsink and determine adequate terminations is eliminated. It's a complete package you can install easily with CONTROL CONFIDENCE®.
Four DIN-A-MITE styles meet most power controller needs with ratings from 18 to 100 amps with voltages from 24 to 600V~(ac). The four models match load requirements with 1-phase, 3-phase/2-leg and 3-phase/3-leg switching. The controllers also provide a convenient DIN-rail and sub-panel mount package.
POWER SERIES Microprocessor-based SCR
Ratings from 65 to 250 amperes.
Offers extensive system and heater diagnostics features and agency approvals.
For over thirty years Watlow® has been manufacturing solid state power controllers. Watlow's new POWER SERIES represents the latest in SCR power controller technology. This microprocessor-based product offers features and application flexibility unmatched by any other SCR power controller on the market today.
Capabilities include single-phase and three-phase models from 65 to 250 amps. Field configurable phase angle or zero-cross firing improves application flexibility on site where you need it. 50/60Hz independent operation means you can operate almost everywhere in the world without special calibration considerations. Serial communications utilizing Modbus® protocol allow for remote control setup, and monitoring of load status from a nearby computer station or control room.
On-board semiconductor fusing improves reliability by protecting the SCRs from heater short circuits. Plus, on-board heater bakeout and control diagnostics can help eliminate initial start up problems. All this in a touch-safe package that can be quickly and easily mounted in your control cabinet.
CSA, VDE and UL® recognized contactor.
Ratings from 18 to 50 amperes single phase.
Single solid state relays from 10 to 75 amperes.
The new SERIES CZR solid state contactor from Watlow® provides a low-cost, highly compact and versatile solid state option for controlling electric heat. With DIN-rail and back panel mounting standard on every controllers, the CZR allows for simple and quick installation.
The extensive capabilities of the SERIES CZR include single-phase, 24 to 50 amp zero-cross and random switching up to 600V~ (see output rating curve). The unique integrated design removes the guesswork associated with selecting a proper heat sink and precise terminations for the application.
This controller holds many agency approvals and is ideal for applications that require UL®, CSA and CE approvals. SERIES CZR contactors are available in V (ac/dc) input contactor versions. All configurations are model number dependent and factory selectable.
The SERIES CZR is reliably backed by a two-year warranty from Watlow.
E-SAFE II Hybrid Solid State Mechanical Relay
Current ratings up to 35 amperes
An excellent mercury displacement relay replacement
Watlow's patent pending E-SAFE® II hybrid power switch provides reliable and accurate power switching up to 35 amperes at 158°F (70°C). Because of the product's unique design, there is no need to purchase costly heat sinks used with traditional solid state relays (SSRs). In addition, this is a three-phase device, so there is no need to wire multiple command signals. With a switching life of millions of cycles and an ambient rating of 158°F (70°C), with no heat sink required, this product is more superior than typical SSRs.
The E-SAFE II hybrid power switch provides operators with longer contact life and higher performance than typical mechanical contactors used in equipment. By using Watlow's patent pending NO-ARC technology, the E-SAFE II can switch millions of cycles increasing the life of the product with decreased noise and increased temperature accuracy. E-SAFE II's inherent ability to operate at fast cycle time provides a nice complementary product for a time proportioning (PID) controller.