Featured Products:

---

Anderson-Bolds has recently added the Elster American Meter
Gas Meter to our Energy Management product list. Please call us for details.
Budzar Industries
Process Fluid Heat Transfer Systems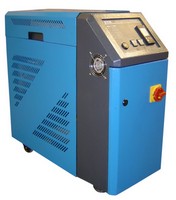 Budzar is the industry leader in fluid heat transfer products with hot oil, hot water, and chiller units for many processes. Budzar units are found in all sorts of industries, including Pharmaceutical, Semi-Conducter, Paper, Rubber, Plastics, and Web applications. Products include Hot Water Units, Portable Chiller Units, Hot Oil Units, Central Chiller Units, Towers and Tank set Units, Heat Transfer system, Low Temperatue Control Bio-Waste
| Budzar Heat Transfer Products | |
| --- | --- |
| Budzar Mold Temperature Controllers: Unmatched reliabilty and power for your production process. The Budzar units are the smallest, best performing mold controller on the market. Flow rates from 20 to 110 GPM at 30 PSI up to 50 PSI and direct injection or closed loop.. Budzar has 9, 12 and 18 kw units available in either 460 or 230 volts. Pump horse powers are .75, 1.0, 1.5, 2.0, and 3.0. Quick release panels for complete maintenance access. Separate Process and set pint displays and supply pressure gauges for easy veiwing and diagnostics Units can be stacked 4 high. Every Budzar Mold Controller is factory tested prior to shipment. | |
| Budzar Portable Chillers: Budzar Industries' ICE portable chillers are either Air Cooled (AC or Water Cooled (WC) and are built for top performance. Sizes are from 3/4 to 30 compressor HP. Controlled temperatures are from -40 to 70 degrees F. The units have PLC control and non-ferrous and utilize a high efficiency Scroll compressor. Other features of the Budzar ICE products are accurate temperature control, refrigerant filter dryer, level gauge, cleanable air inlet filters, stainless steel pump, single point electrical connection maintenance free operation and use of environmentally friendly refrigerants. | |
| Budzar Hot Oil Systems: Budzar Silver series Hot Oil systems are designed for up to a maximum operating temperature of 600 degrees F. The Hot Oil units are welded construction and compact for space saving. The hot oil units have KW's of 6,12, 24, 36 and 48 and GPM flow rates of 20, 30 and 50. Standard options include side stream cooling, main stream cooling, solid state relays, isolation valves, RS-485 communications, NEMA 12 enclosure UL listed panel, dual zone and a hose kit. Made in the USA in Cleveland, Ohio. | |
| Gemini Dual-Circuit Chiller: Budzar's Gemini Chiller is a dual chillers, two in one package and completely separate circuits. Capacities are from 20 to 80 tons and plus 30 degrees to +60 degees F. The Budzar Gemini Chillers are A.S.M.E constructed of a steel shell and copper tube chiller vessels and evaportors for optimum performance and efficienncy. Insallation costs are lowered combining our chillers with water resevoir assemblies and are pre-piped and pre-wired. Copeland compressor Horse powers are 7.5 to 35 and the the chiller pumps are 1.5 to 5 HP. Units can be either 460 or 230 and 480 volt amps from 46 to 141. Made in the USA in Cleveland, Ohio. | |
| | |
| --- | --- |
| Bio-Waste Decontamination Systems: Budzar's Bio-Waste Systems neutralizes pathogenic organisms that pose a risk to the enviroment. The system is designed to ensure that the organisms are completely neutralized and the effluent is temperature and ph are in acepatable ranges for discharge. The Budzar systems can be either batch of continuous and are customer designed from standard modules. PLC controls for time, temperature and ph. Thorough factory testing prior to shipment. Made in the USA in Cleveland, Ohio. | |
Integrity, quality, and precision engineering make Budzar Industries a standout among the competition.
A solid reputation is built on longevity, engineering excellence, quality workmanship, and customer service. Budzar Industries has specialized in process fluid heat transfer systems since 1975. As a result, Budzar has earned a global reputation for quality and ingenuity in the design, engineering, and manufacturing of temperature control systems. Just look around. You will find Budzar systems in action throughout the world, delivering accurate temperature measurement and control to the production of chemicals, petroleum, plastics, rubber, paper, power, steel, food, and pharmaceuticals.
Budzar equipment and engineering gives the producer precise controls over process variables. Budzar's chillers, hot water systems, hot oil systems, cooling towers, pump tank systems, and the Budzar World Alliance family of portable temperature control systems, equal greater productivity, extended equipment life, increased productive capacity, and power and resources conservation, which equates to time and bottom line savings. Budzar is committed to operating with complete integrity and delivering the highest quality equipment and services available today.
Budzar's Engineered Systems Division is staffed by knowledgeable and experienced engineers who stand ready to meet your needs — from forward-thinking engineering and design to aftermarket service. The Engineered Systems Division can apply standard systems or custom solutions with temperature control ranging from chillers down to -100° F, hot oil systems up to 750° F, and everything in between. Whether custom designed to be explosion-proof, to meet extreme temperature ranges, to match your company's specifications or to meet crucial space problems our engineers will meet the challenge while assuring quality on every job.
Repeat customers are Budzar's biggest compliment, proof of Budzar's high level of quality products, manufacturing standards, and customer service. In excess of 70% of Budzar's annual business volume comes from satisfied customers and partners representing a vast spectrum of industry applications. Budzar is committed to developing and maintaining long-lasting business relationships, and we would be pleased to add your company to our list of valued clients.
Click here to fill out a Budzar parts form and quote request.